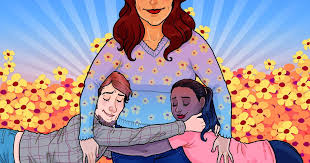 "I believe the choice to become a mother is the choice to become one of the greatest spiritual teachers there is."
~Oprah Winfrey

Dear Aspen Chapel Families,

It is mid-May and we are coming upon Mother's Day. Many mothers may look forward to this day of family, brunch, flowers, and little coupons for chores. Others may meet this day with grief because it's a reminder of what they've lost or never had. And of course there are numerous emotions between joy and grief that honor the complexity of motherhood, family structure, unrelated caregivers, single parenthood, and the difficulties and heartbreaks associated with raising children, whether we're parents, step-parents, teachers, grandparents, aunts & uncles, or friends.
Wherever we fall on the spectrum of emotions, we can probably all agree that mothering or care-giving is a spiritual experience. From the very beginning we experience the need to surrender, let go, trust, self-reflect, fail, try again, and to learn from the mirror, which is held up to us by all those we attempt to care for with our best intentions. Each time our hearts break or our strategies don't work or we're brought to our knees through care-giving, we are blessed with insight, which leads to wisdom. Unfortunately the wisdom comes after we've made numerous mistakes, but it comes when someone else needs it. That is why Mother's Day is a day to celebrate all caregivers who impart this insight.
"So we are grateful and we appreciate both - our biological mothers and mother earth. We are here because of this mother and that mother."
"If you look closely enough, there isn't one thing in creation, without which you can exist. So I want you to look upon everything as a mother."
~Sadhguru

Please join us this Sunday as we gather as a Chapel community to enjoy a short message, beautiful readings, and the music of ASPEN NOISE. We will also be passing the microphone around the sanctuary so everyone can share how motherhood or care-giving has touched them.

Older children are invited to stay upstairs in the sanctuary for this special service. If your child would like to perform with ASPEN NOISE, they are having an 8:15 rehearsal at the Chapel, and we would love to have them join. Very young children will join McKenna downstairs for stories and a special craft.