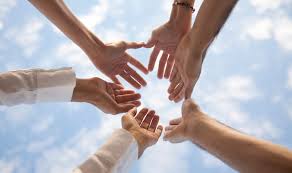 "If we all stand together, we'll all begin to heal."
~Sonja Linman
Dear Aspen Chapel Families,
Early this week I had the privilege of attending a presentation called, "Helping Our Teens Through Family and Community" at the Aspen District Theater. Individuals and families who had direct experience with addiction sat on the first panel, and mental health therapists, police officers, and an ER doctor sat on the second. Sonja Linman, a prevention specialist and long-time educator, spoke in the middle.
The first panel shared their harrowing stories of addiction and what factors they believe got them there. The second panel shared their observations of what teens are facing today: incredibly busy schedules, academic and social pressure, time on social media, and easy access to drugs and alcohol. Sonja Linman suggested that we become good at what we practice. Kids are practicing being on their devices and being over-programmed. She equated their experience to a cat watching a horror film: over-stimulation and anxiety as a result of a perceived threat, which life today offers!
The common thread that each speaker spoke to was connection. It was stated that when kids stop connecting to their family, they become disconnected from themselves. Kids can feel lonely in their family if they don't connect on an emotional level. One of the presenters shared that as he became more distant and withdrawn from his family due to feeling overwhelmed and isolated by his emotions, he turned to drugs because he could connect just by sitting with someone else doing drugs. It was a way to be with people without sharing anything except a temporary high that numbs the pain. It wasn't until he was sent away for wilderness therapy that he realized how sad it was that he sought connection that way, now that he has learned that sharing our emotions is how we really connect with others.
Kids and adults alike need purpose, structure, goals, and connection. As we work towards goals, search for purpose and operate within a structure, we rely on connection to make it all worthwhile! We need to connect with people to manage all our experiences and emotions, we need to connect with what we're doing so we can be present with it and have buy-in, and we need to connect with ourselves in order to self-regulate when outside factors become out of control.
It was perfect timing that we began our "Connectedness" unit last Sunday. Last week we discussed the people, places, and things we're connected to. We'll continue discussing that this week, but the focus will be on what causes us to become disconnected and what it takes to reconnect. As adults, we learn to become more aware of our emotional triggers and we learn to hold space for that. We're also equipped with tools to find our equilibrium again: exercise, breathing, prayer and meditation, and conflict resolution skills. But most of us didn't learn about this when we were kids, so we're learning it now! If our kids can become aware of how they feel when they're connected and how to become connected, and further to notice when they're becoming disconnected and what they can do about it so they don't become isolated and depressed, they will be far more equipped than we were for the challenges that await them.
We hope to see you and your children this Sunday. Have a wonderful Memorial Day Weekend filled with "connectedness"!